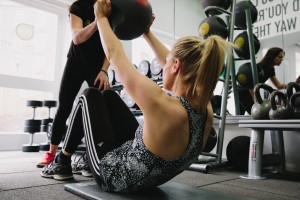 I call the core or abdominal region –  the trunk, but what is the trunk of the body? The trunk consists of the spinal column and thorax (ribcage surroundings). The spinal column houses 32 pairs of spinal nerves & is an integral component of our nervous system. Its structure transmits weight from the body to the legs and allows for an upright stance. The thorax consists of the ribs and sternum and houses the lungs and heart.
When working on the trunk exercises and movements – its important to remember which muscles prevent and help which movements.
The following are most important muscles found in the trunk and the movement patterns they are involved in.
Erector Spinae Group
Ilicostalis, Longissimus and Spinalis
Movement: Trunk extensions and lateral flexion.
Quadratus Lumborum
Important stabiliser of the pelvis and lumbar spine
Movement: Lateral flexion and extension of the lumbar spine.
Rectus Abdominus
Controls tilt of the pelvis
Linea alba divides each rectus abdominus which gives us the 6 pack effect.
Movement: Trunk flexion
Internal Oblique
Assists the rectus abdominus in flexion to complete the movement.
Movement: Trunk flexion, trunk rotation and lateral flexion
Transverse Abdominus
Considered to be important in trunk stability
Movement: Forced expiration (bracing)
Lets now look at these muscles and movements in terms of actual exercises.
Sit up or supine hold (flexion): Rectus Abdominus, Internal Obliques and External Obliques.
Plank (extension or anti-extension): Erector Spinae (Iliocostalis, Longissimus, Spinalis).
Palof Press (trunk rotation or anti-rotations): Internal Obliques and External Obliques.
Side plank or farmers walk (lateral flexion or anti-lateral flexion): Erector Spinae and Quadratus Lumborum of the ipsilateral side.
The spine and thorax is a key area of the body, good movement quality is crucial to maintain good health, posture and stay injury free. Take you time making sure all exercises are done properly and don't rush to improve – allow your personal training clients to earn the right to lift heavy.