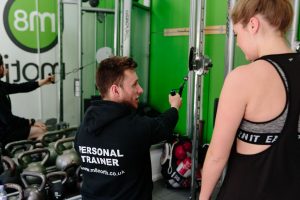 My recent blog regarding being the best personal trainer or coach you can be, focused on building rapport with your clients, constantly developing your knowledge and keeping up-to-date with current research and then finally being flexible in your approach. I would say these are the key foundations that all trainers/coaches need.
Let's delve a little deeper into what else can be done to be a good personal trainer.
The definition of the 'Coach' (according to Google) is 'a comfortable single or double decker vehicle transporting people on a long journey'…and that is exactly what we are as trainers and coaches. We are transporting our clients from where they are, to where they want to be. The comfort for our clients is the three points covered in the previous blog (rapport, knowledge and flexibility)…but whether or not we get our clients to there destination is more to-do with the specifics and the 'small coaching' characteristics.
Sometimes we need to think outside the box…
Marginal gains
This term means different things to different people. For me and for us as personal trainers it means doing small things for your clients that can make a big difference. Factors such as, remembering important dates in your client's life, birthdays, holidays, races, matches, injuries. 'Know one cares how much you, know before they know how much you care'
Coaching philosophy
Personal training does not have a 'one size fits all' approach. Two PTs can have two completely different approaches and still be equally as successful in delivering success to clients and athletes. I would argue it is important to develop a few core principles that you stick by.
For example, mine are:
Movement quality over load lifted
Buy-in is a key part of motivation
'Hard work beats talent, when talent doesn't work hard'
'No one cares how much you know before they know how much you care'
Two points on these, firstly yes, I realise they are very cheesy and generic – but I stick by them in all situations. Secondly, I am constantly developing and altering my philosophies. I hope to end my career with a much longer list…
Failure
People can be amazing personal trainers straight away. That should be your aim from the outset, to be perfect and never get anything wrong. Although this is the aim it very unlikely you will not make mistakes. And for me this is crucial, and how we react to this failure is crucial. When we make mistakes, it is a chance to get better. When I realise I have made a mistake and I think about why I made it, how I am going to stop it happening again and then most importantly what are am I going to do next time to be better!? Do NOT be scared to get things wrong – it is one of the most important factors in being a great personal trainer.
Good luck transporting clients to their destinations…