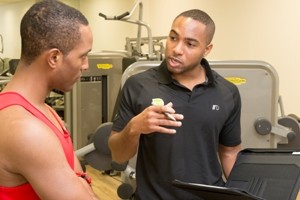 Specialist Areas
Strength and Conditioning
Body Transformation Training
Exercise Physiology
Client Engagement & Retention
Tutor for Level 2 Certificate In Fitness Instructing & Level 3 Certificate In Personal Training
What attracted you to working in the fitness industry?
I've always enjoyed physical activity since a young age. I used to participate in various sports and loved the aspect of having to continually push yourself to get better. After a serious knee injury, aged 15, I started going to the gym to build up my strength and loved the physical and mental challenges you face when training. When deciding on a career path it made sense to turn my passion into my profession.
What advice would you give to someone who is looking to start working in the fitness industry?
Be prepared to have to work hard, it can be a competitive industry! But don't let that put you off! Believe in yourself and your capabilities, and clients will soon be flocking to train with you!
What advice would you give to someone looking to start in the industry?
I would always recommend for people to do thorough research before deciding on what career path they want to choose . This ensures they know what to expect , what qualifications and experience they may need and also the career progression opportunities . Working in the fitness industry is rewarding in many ways you get to interact with people from all walks of life and it's usually with one common goal : Self improvement . 
What's the best thing about working in the fitness industry? Any downsides?
Generally speaking it is one of the most positive environments to be in . Within the fitness industry you have a strong community of people continually trying to better themselves mentally , physically and spiritually . Fitness is far more than just a job but more of a lifestyle choice . Fitness professionals have the opportunity & platform to enthuse , educate & empower the people around them to live a healthy active lifestyle.
Downsides….maybe all of the misleading information around! Make sure you research everything well!
What would you say is the best trait a Personal Trainer should have?
Passion ! I think people need to be motivated by their trainers . If their trainer is passionate about training it will spread on to their clients . Your goal should be to provide motivation so that your clients are inspired and follow suit . If you lack energy or interest in your clients they will quickly become demotivated and not listen to the advice you are giving them . It is important to mention that the fitness instructor/personal trainer should always be committed to continually learning and improving their knowledge to ensure the workouts and information they provide are safe and effective . 
Likes and dislikes
Likes – Leg day, burpees and Madacasgan vanilla custard from M & S!!
Dislikes – Brussel sprouts and blue cheese.
To book your place on the Certificate in Fitness Instructing of Certificate in Personal Training call 0800 028 0198, email info@motive8iq.co.uk