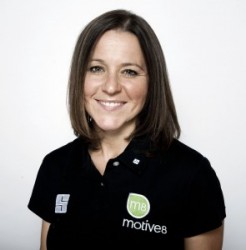 Specialist Areas
Pre & Post Natal Fitness
Running & Triathlon
Client Retention
Fat Loss Methods
Tutor for Level 2 Certificate In Fitness Instructing & Level 3 Certificate In Personal Training
Why did you start working in the fitness industry?
I originally studied PE at university but realised I didn't want to work with children instead I wanted to encourage people to become fitter and healthier so I trained to become a personal trainer.
What is your role at Motive8IQ?
I'm responsible for co-ordinating all of our courses and workshops.
Do you exercise yourself?
Of course! Which good role model wouldn't?! I run anything from 10k's to marathons and have recently started doing triathlons which I love!
What advice would you give someone who wants to become a fitness instructor or personal trainer?
Working in the fitness industry is one of the most rewarding jobs ever…..when you have a client who achieves their goals all those early morning starts are worth it!
Likes and dislikes
Likes – Running, triathlons and cooking.
Dislikes – Sprouts!
To become a Fitness Instructor or Personal Trainer, contact us on 0800 028 0198, email info@motive8iq.co.uk