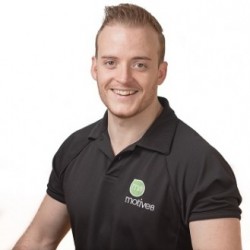 Specialist Areas
Exercise Prescription
Functional Movement Training
Fitness and Wellness Consultation
Biomechanics
Injury Prevention and Rehab
Body Composition
Tutor for Level 2 Certificate In Fitness Instructing & Level 3 Certificate In Personal Training
What was the attraction of working in the fitness industry?
I have always been interested in how the body works and what we can do to improve our fitness and wellness. Initially this was through my own training and sporting performance but this has led to a passion to help others achieve their goals.   
Why did you decide to become a tutor?
Whether it's talking to friends, random people in the gym or working directly with clients I have always found people engage more efficiently with a training method or lifestyle change when they understand how and why. Becoming a tutor feels like the next step to improving my own skills and helping more people achieve their goals. The more people I can hep become fitness instructors and PTs the more people who can collectively help to achieve their goals!
What is your advice to someone starting out in the industry?
Never accept that any one training method or idea is better than another at getting a client to achieve their goals. The most important skill is application, you could memorise every text book out there but if you can't apply that knowledge and correctly prescribe the right course of action for your client then they won't achieve optimal results. 
What is the best thing about working in the fitness industry?
The best thing is helping clients achieve results! I measure success by progress even if it is tiny progress we have still been successful. There's nothing more rewarding than enabling clients to achieve progress in their training and helping them work towards their goals. 
 
What is the most important piece of advice you could give to someone on their first day at work?
Listen to your clients and be prepared to adapt the services you provide. A training method or coaching style that works for one client may not work for another. You might be fully qualified but you'll never stop learning because life never stops teaching. 
Are there any downsides to working in the fitness industry?
There is a negative side to the industry, personally I feel the industry is saturated with 'PT's' that are just in it for themselves and a few extra likes on social media They'll do anything to boost their public persona. Stay honest and you'll always remain credible.
Likes and dislikes?
Likes – learning new training methods
Dislikes – people who promote information and training methods which are not scientifically proven.
Book your place on our latest course. Call 0800 028 0198, email info@motive8iq.co.uk